How do I set up email accounts on Mac?
Settings to verify your Mac Mail account is configured correctly.

You will need the following:
• Your Email Address
• Your Email Password
1. Open Mac Mail
2. Click the Mail menu up the top and select Preferences from the list
Mail -> Preferences -> Accounts ->


3. By default you should be looking at the Accounts tab as per the picture below.  Select your account from the list of the left, you may have more than one.

The account window looks like this: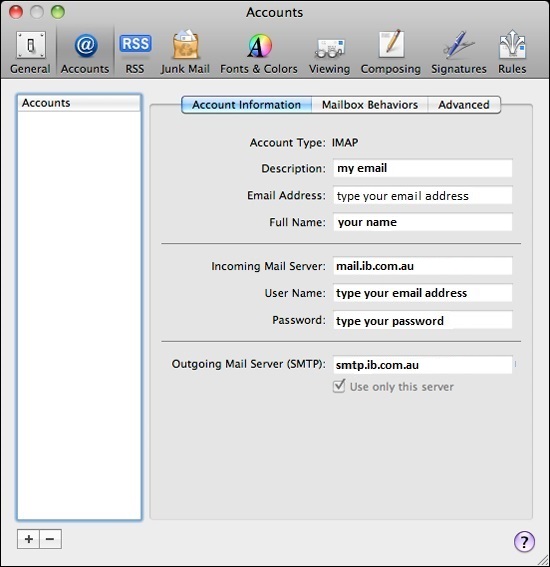 Note:  The account type will be dispalyed and can't be changed, without first removing the account.  Types are POP (save messages on your computer) or IMAP (Save mesages on server, used to sync emails and folders betweeen devices).


4. Check the following settings on the page;
Description:  This is a labell for your account.  You can enter what you like but we suggest typing your email address here.
Email Address:  This is your email address.  Ensure there are no typos or people won't be able to reply to you.
Full Name:  Your name or business name - this is how your name appears when people receive email from you.
Incoming Mail Server: mail.ib.com.au
Username: enter your email address.
Password: enter your email password.

5. Click on the Advanced tab to the right.  The screenshot below is what you will see if you are using IMAP as the account type.  Things to note:
Imap Path Prefix: Inbox (with a capital I) makes the special folders display and sync correctly when using IMAP.  If using POP this is not applicable.
Port: 993 (imap) or 995 if using POP as account type.
Authentication: Password.  Do

not

use any other auth method or your account won't work!
Use IDLE command if server supports it.  Leave ticked. Not applicable for POP account types.
Make sure the first two tick boxes at the top of the page are ticked.  If not then mac mail will not check the account even if your settings are perfect.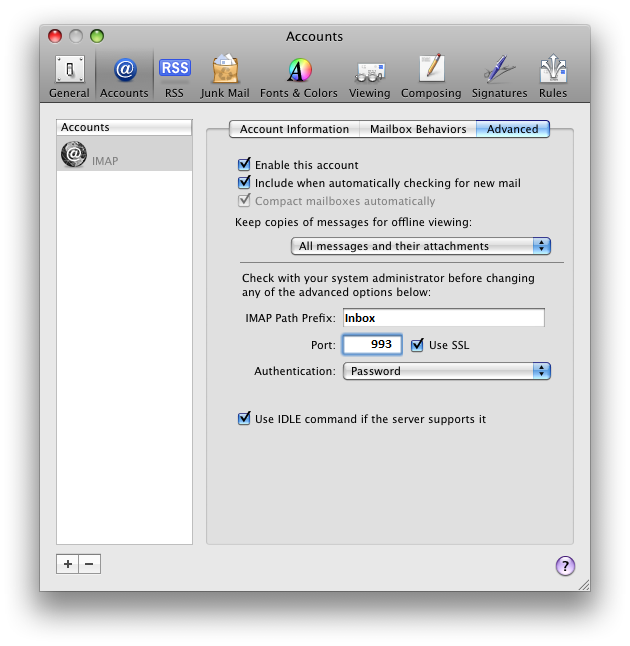 6. Click back to the Account Information tab.


 7. Under Outgoing Mail Server (SMTP), click on the server name and you will see context menu appear.


 8. Select Edit Server List. Select the outgoing mail server, which should be labelled as smtp.ib.com.au.  
Check the server name is mail.ib.com.au
 9. Click the Advanced tab to the right and check the following;
Use Default Ports (25,465,587.  Leave this option checked.
Use Secure Socket Layer (SSL) must be selected. 
Authentication: Password.
Username: Your email address.
Password: Your mail box password.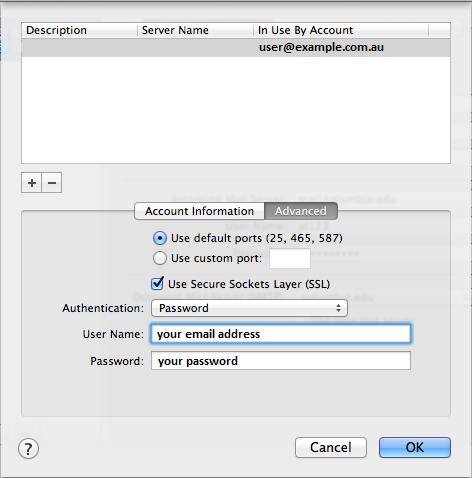 10. Click OK when done.
Back to FAQ